"The perception of high school girls that they are simply not good at technology is simply incorrect—they are first adopters. And other data bolster this argument, as it turns out that women may be better than men when it comes to leading a technology start-up.

"Women-operated, venture-backed high tech companies average 12 percent higher annual revenues. They also use on average one-third less capital than male counterparts' startups."
"We've done lots of research on why young women don't choose tech careers and number one is they think it's not interesting. Number two, they think they wouldn't be good at it. Number three, they think they will be working with a number of people that they just wouldn't feel comfortable or happy working alongside."
Ad for UN Women Campaign Duplicates Awful Google Search Suggestions
This campaign uses the world's most popular search engine (Google) to show how gender inequality is a worldwide problem. The adverts show the results of genuine searches, highlighting popular opinions across the world wide web. 
"As late as the 1960s many people perceived computer programming as a natural career choice for savvy young women. Even the trend-spotters at Cosmopolitan Magazine urged their fashionable female readership to consider careers in programming. In an article titled "The Computer Girls," the magazine described the field as offering better job opportunities for women than many other professional careers. As computer scientist Dr. Grace Hopper told a reporter, programming was "just like planning a dinner. You have to plan ahead and schedule everything so that it's ready when you need it…. Women are 'naturals' at computer programming." James Adams, the director of education for the Association for Computing Machinery, agreed: "I don't know of any other field, outside of teaching, where there's as much opportunity for a woman."
This ad sucks: Motorola: Girls Will Love Our New Smartphone!
Motorola's advertising squad is apparently unconvinced that women are buying iPhones in large numbers without factoring in what hair ties will go well with them.
"Birchbox has figured out a way to get women to pay money to be marketed to. The last time that happened: glossy women's magazines, but this is a smarter, interactive version of that. The boxes cost twice the price of a newsstand magazine and you get five or six samples. They're often themed (travel, summertime, partnerships with Gossip Girl, Gwenneth Paltrow's Goop, or Glamour magazine). The boxes contain editorialized descriptions of the products that direct users to check out how-to videos on Birchbox.com. Friendly email reminders drive traffic to the site's editorial content as well. Beauty obsessed subscribers tape themselves "unboxing" their package each month.

That doesn't happen with a magazine."
- The beauty of Birchbox: it's not subscription commerce, it's marketing that women actually pay for | PandoDaily
 Via Growthology:
With the news that Google's Marissa Mayer has joined Yahoo as CEO, the remarkable upswing in female CEOs continues. The following figure summarizes the trend, showing that there are currently 41 female Fortune 1000 CEOs, the majority of whom have joined in the last three years.
"Women still operate from a position of scarcity rather than a position of abundance. But we should not have to live with the paralyzing fear that this one will "get away." Men don't. Instead, they see windows of opportunity and encourage ambitious young men to walk through them. All too often, we encourage young women to look down the road well before they are there, and to look down, instead of up, along the way. But lowered eyes and folded arms do not lead to excellence."
- We Need to Tell Girls They Can Have It All (Even If They Can't) 
The electric dollhouse kit encourages girls aged 6 to 10 to create their own wired dollhouses (think fans, lights, motors, and buzzers) with circuits and wooden building components. The stackable rooms attach to one another to create a home. Instead of playing princess, girls are playing architect, artist, and engineer.
Make mainframes, not war: how Mad Men sold computers in the 1960s and 1970s. Full story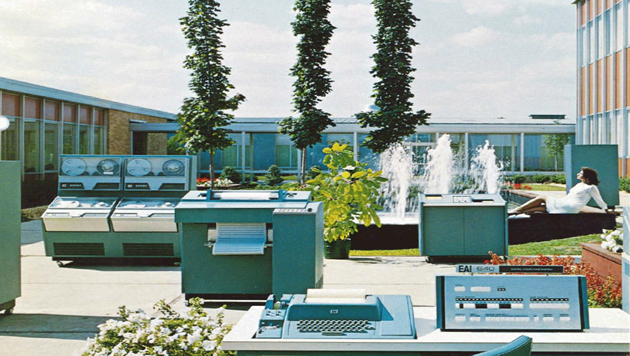 As more women became computer buyers and operators, they lost their decorative role in advertisements. Now they were financial planners, programmers, and business executives.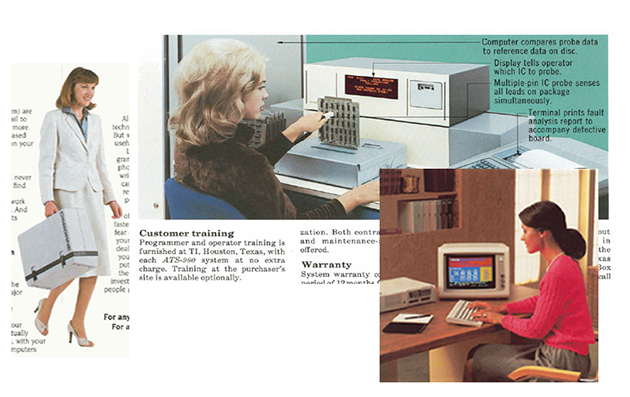 The 2012 ranking of the 500 largest corporations in the United States includes a record 18 firms helmed by female CEOs, up from 12 companies in 2011.

The previous record for women-led companies in the Fortune 500 was set in 2009, and included 15 firms run by female executives. Just seven Fortune 500 companies had female CEOs in 2002 and 2003.

Though this year marks a new high for female CEOs, women still run just 3.6% of Fortune 500 companies. And one in 10 Fortune 500 corporations have no women on their boards.
(via HuffingtonPost)