"Birchbox has figured out a way to get women to pay money to be marketed to. The last time that happened: glossy women's magazines, but this is a smarter, interactive version of that. The boxes cost twice the price of a newsstand magazine and you get five or six samples. They're often themed (travel, summertime, partnerships with Gossip Girl, Gwenneth Paltrow's Goop, or Glamour magazine). The boxes contain editorialized descriptions of the products that direct users to check out how-to videos on Birchbox.com. Friendly email reminders drive traffic to the site's editorial content as well. Beauty obsessed subscribers tape themselves "unboxing" their package each month.

That doesn't happen with a magazine."
- The beauty of Birchbox: it's not subscription commerce, it's marketing that women actually pay for | PandoDaily
 Via Growthology:
With the news that Google's Marissa Mayer has joined Yahoo as CEO, the remarkable upswing in female CEOs continues. The following figure summarizes the trend, showing that there are currently 41 female Fortune 1000 CEOs, the majority of whom have joined in the last three years.
"Women still operate from a position of scarcity rather than a position of abundance. But we should not have to live with the paralyzing fear that this one will "get away." Men don't. Instead, they see windows of opportunity and encourage ambitious young men to walk through them. All too often, we encourage young women to look down the road well before they are there, and to look down, instead of up, along the way. But lowered eyes and folded arms do not lead to excellence."
- We Need to Tell Girls They Can Have It All (Even If They Can't) 
The electric dollhouse kit encourages girls aged 6 to 10 to create their own wired dollhouses (think fans, lights, motors, and buzzers) with circuits and wooden building components. The stackable rooms attach to one another to create a home. Instead of playing princess, girls are playing architect, artist, and engineer.
Make mainframes, not war: how Mad Men sold computers in the 1960s and 1970s. Full story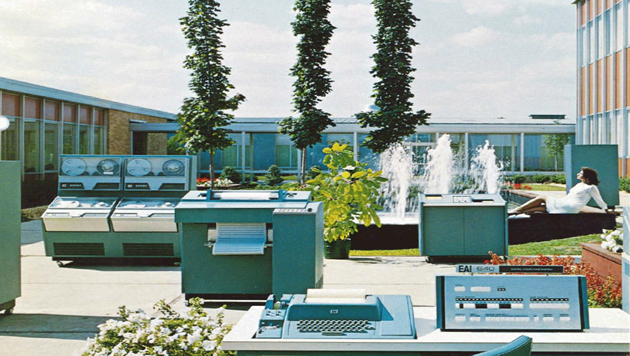 As more women became computer buyers and operators, they lost their decorative role in advertisements. Now they were financial planners, programmers, and business executives.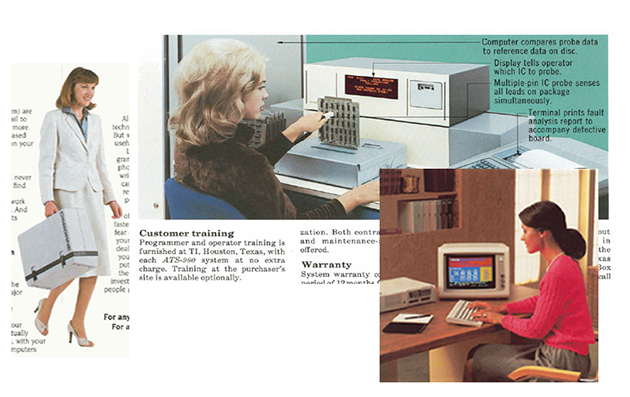 The 2012 ranking of the 500 largest corporations in the United States includes a record 18 firms helmed by female CEOs, up from 12 companies in 2011.

The previous record for women-led companies in the Fortune 500 was set in 2009, and included 15 firms run by female executives. Just seven Fortune 500 companies had female CEOs in 2002 and 2003.

Though this year marks a new high for female CEOs, women still run just 3.6% of Fortune 500 companies. And one in 10 Fortune 500 corporations have no women on their boards.
(via HuffingtonPost)
"As it is, women remain acutely underrepresented in the coding and engineering professions. According to a Bureau of Labor Statistics study, in 2011 just 20% of all programmers were women. A smaller percentage of women are earning undergraduate computer science degrees today than they did in 1985, according to the National Center for Women in Technology, and between 2000 and 2011 the percentage of women in the computing workforce dropped 8%, while men's share increased by 16%. Only 6% of VC-backed tech startups in 2010 were headed by women."
- "Gangbang Interviews" and "Bikini Shots": Silicon Valley's Brogrammer Problem 
"Find your rhythm. You can't have everything you want, but you can have everything that matters to you."
- Marissa Mayer | Advice From Google's Marissa Mayer: "Find Your Rhythm"
Is an over-the-counter birth control pill dangerous? - Slate 
Blue represents the countries requiring a prescription for the Pill. 
Undercover Billionaire: Sara Blakely Joins The Rich List Thanks To Spanx
Sara Blakely was 29 when she invested her entire life savings, $5,000, trying to come up with something flattering to wear under her white slacks…. Since then, Blakely has taken Spanx from a one-product wonder sold out of her Atlanta apartment to a billion-dollar powerhouse with just under $250 million in annual revenues and net profit margins estimated at 20%. She owns 100% of the private company, has never advertised and never taken outside investment. Blakely turned 41 in February, making her the youngest female self-made billionaire in the world.